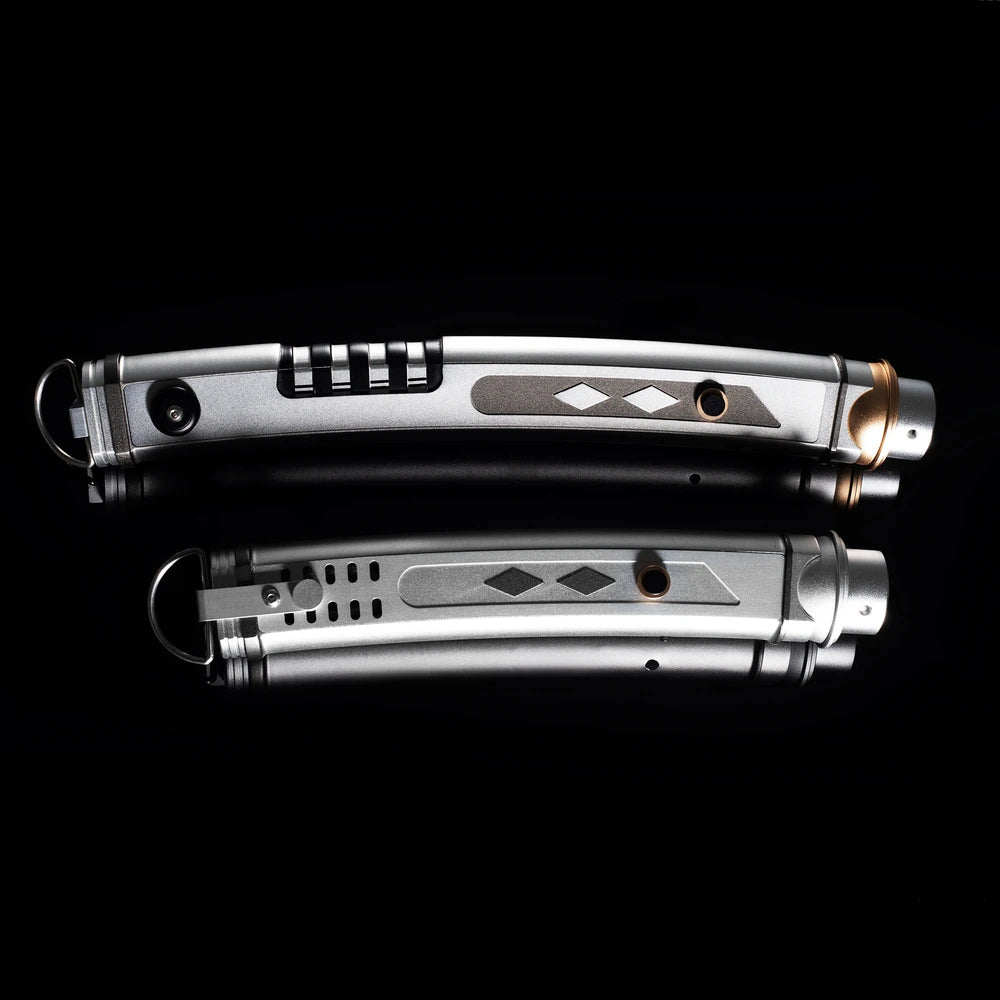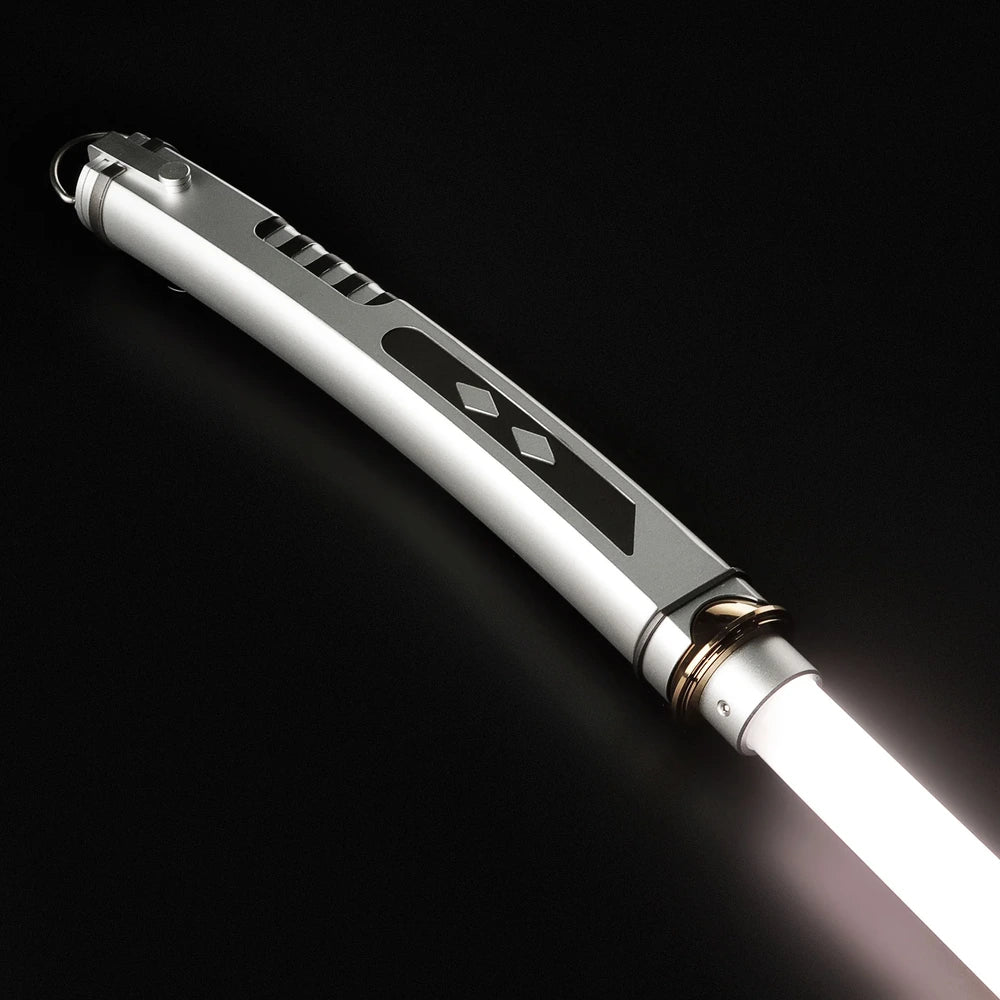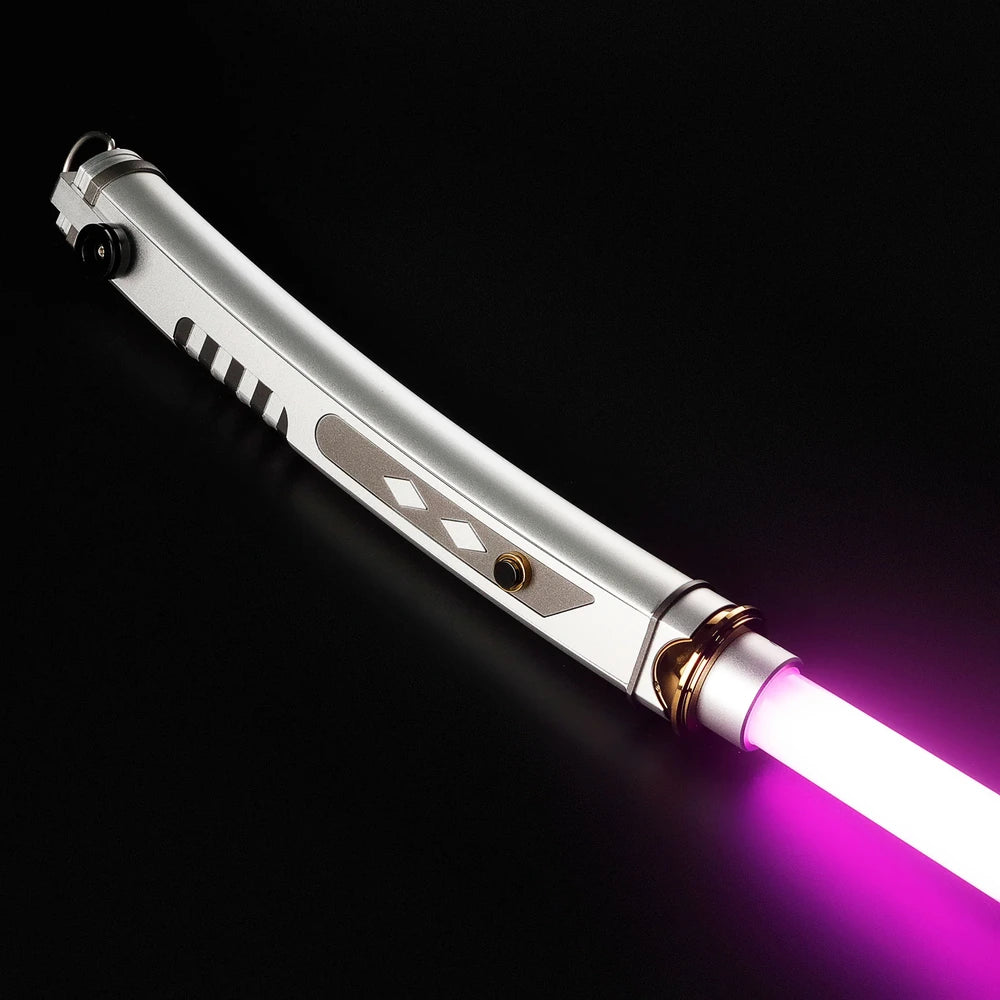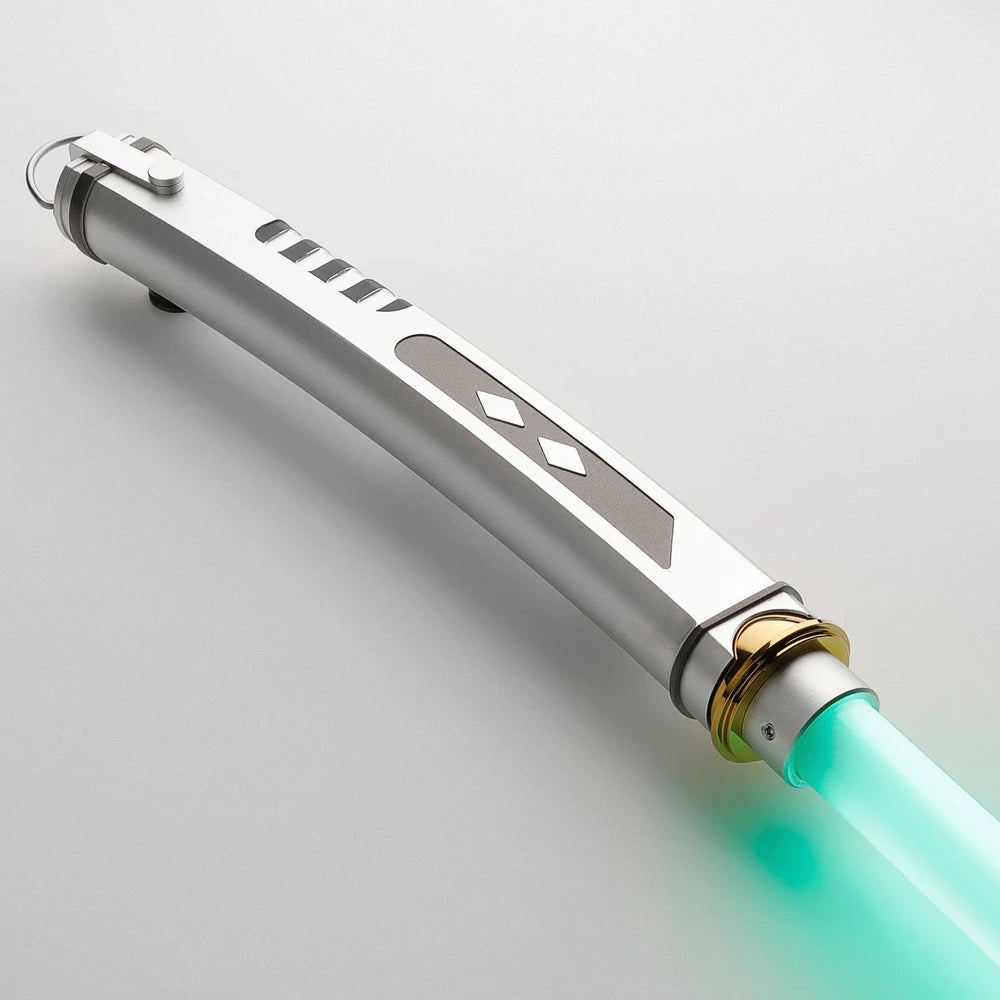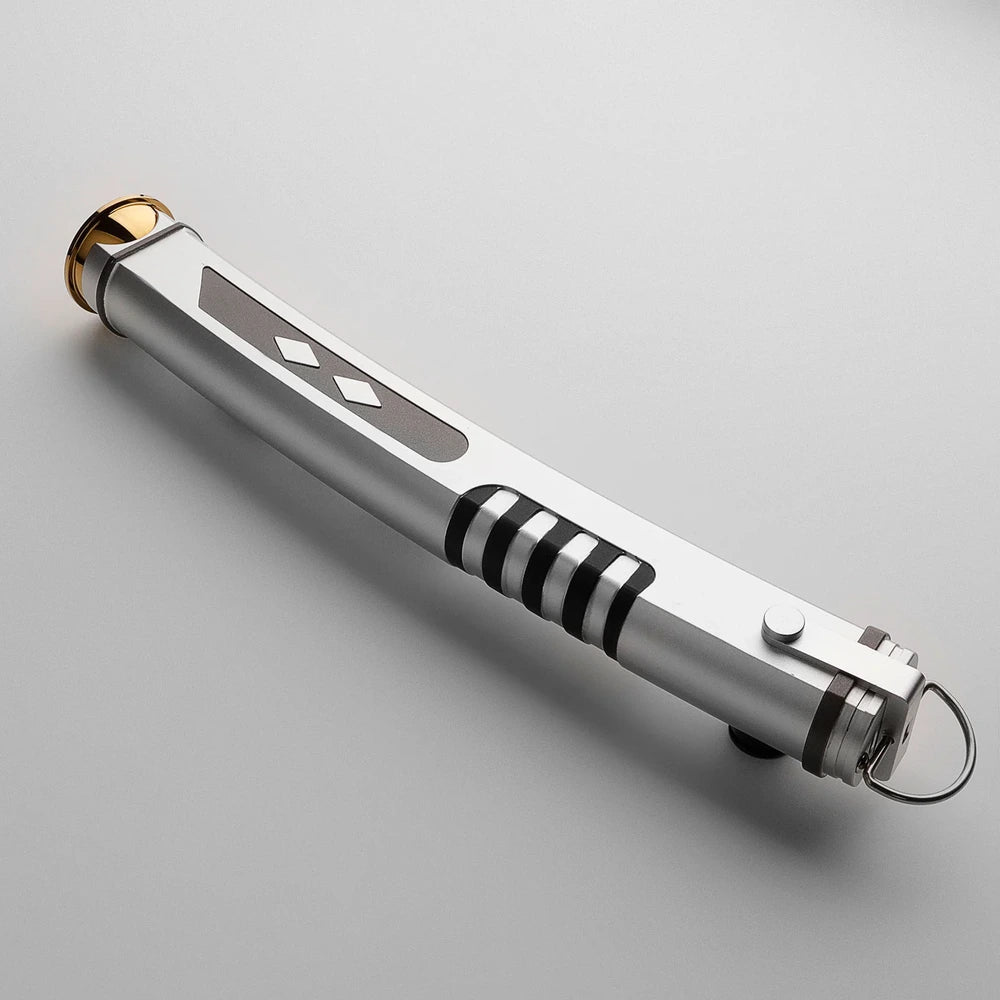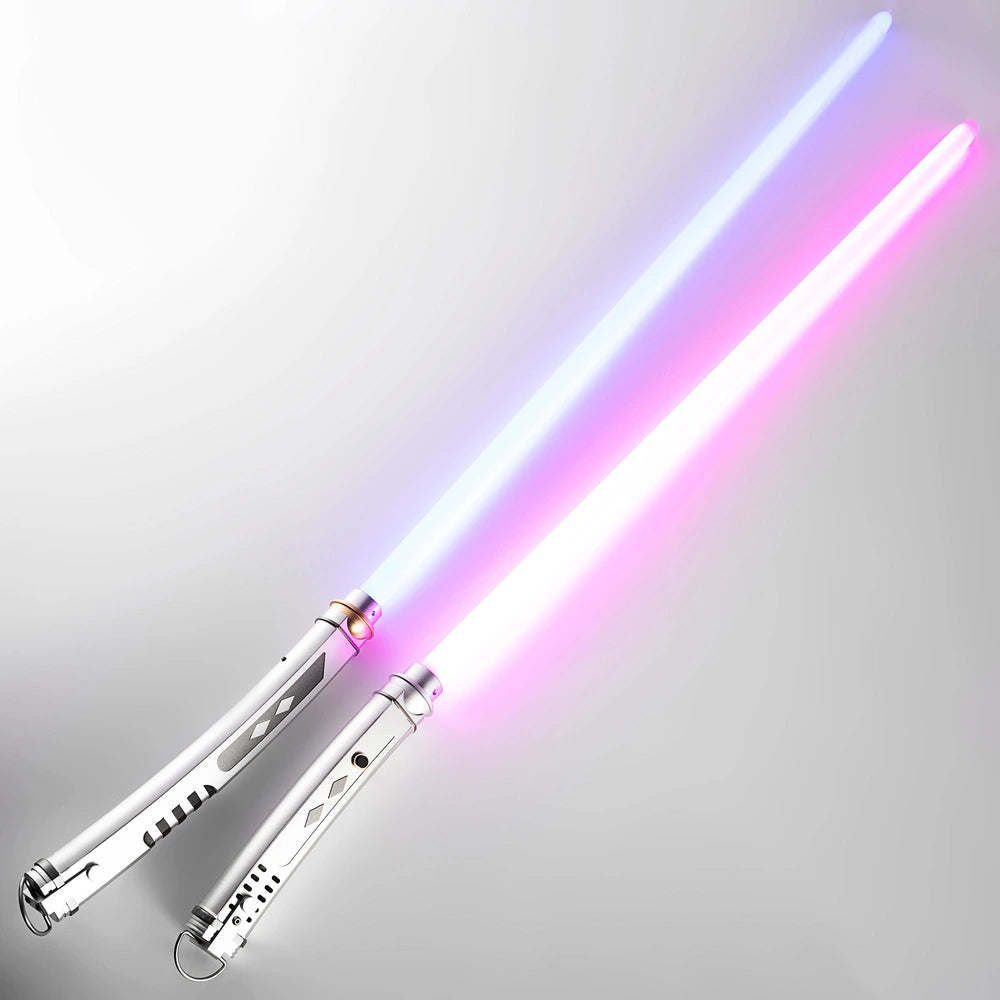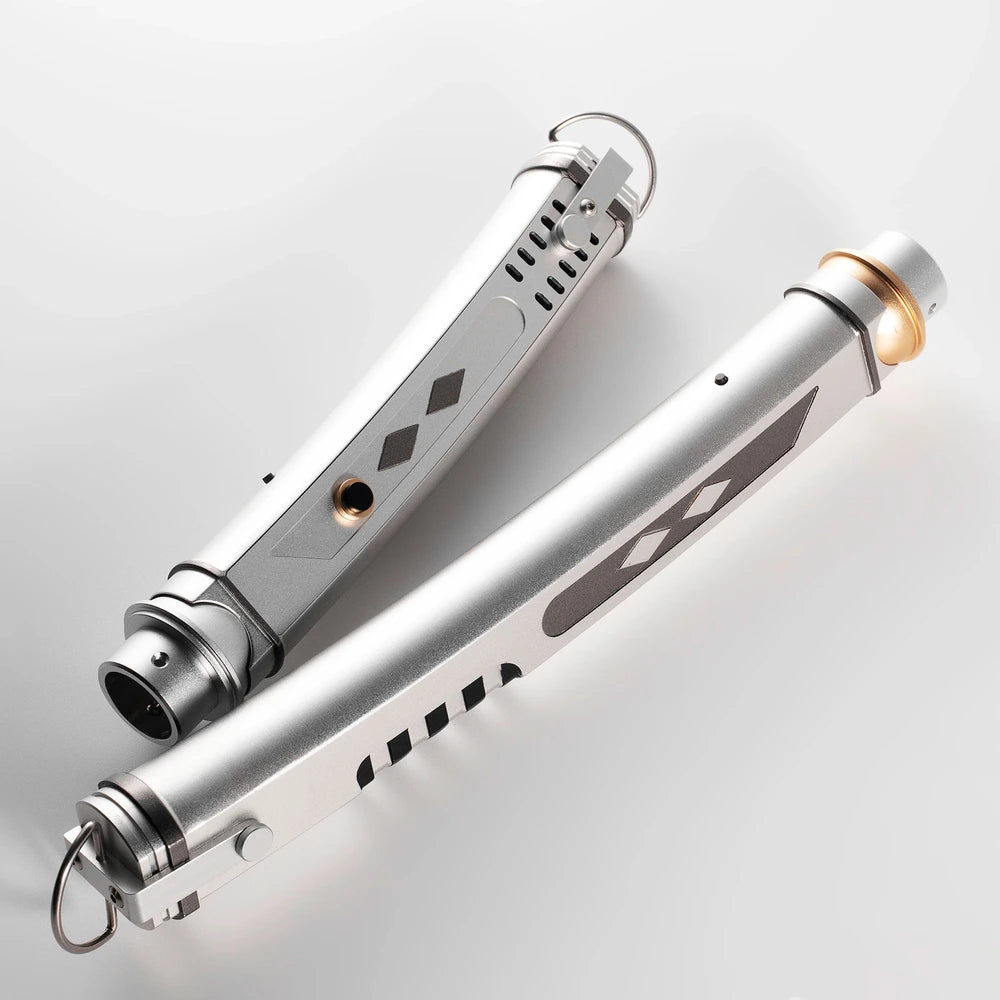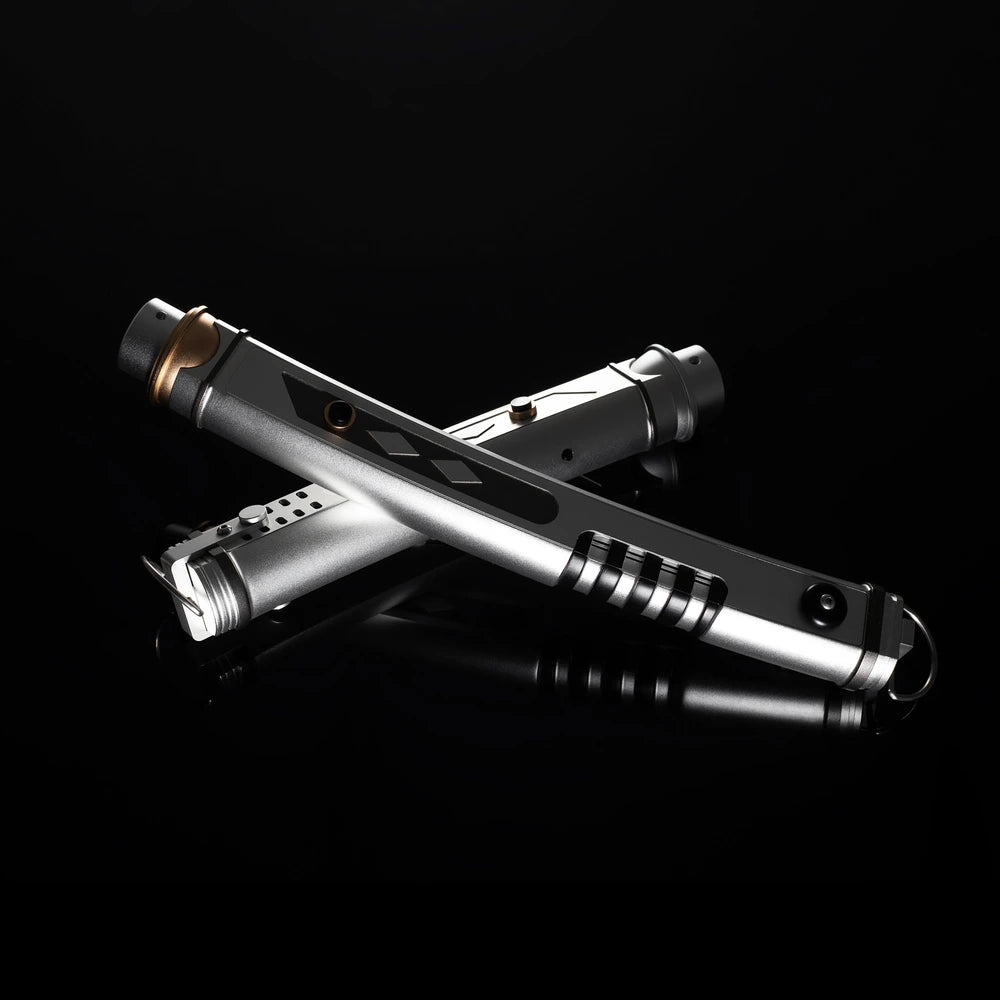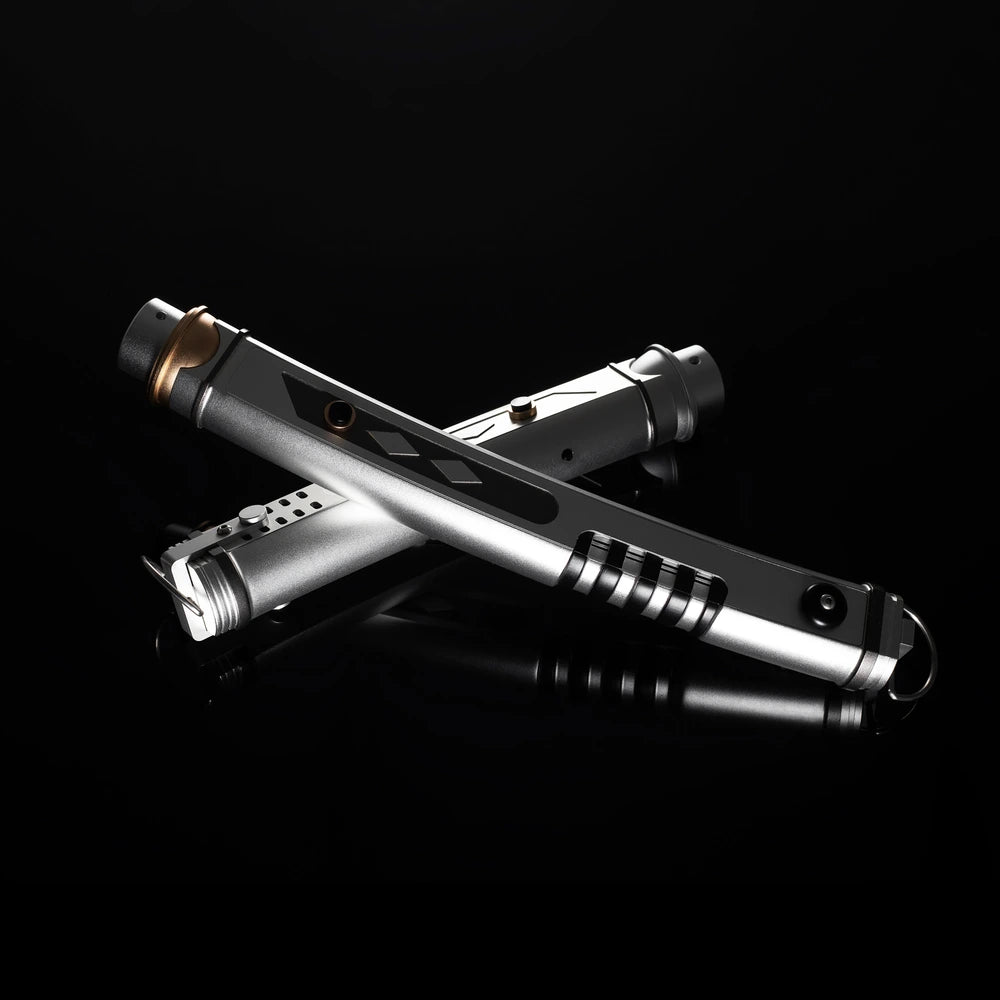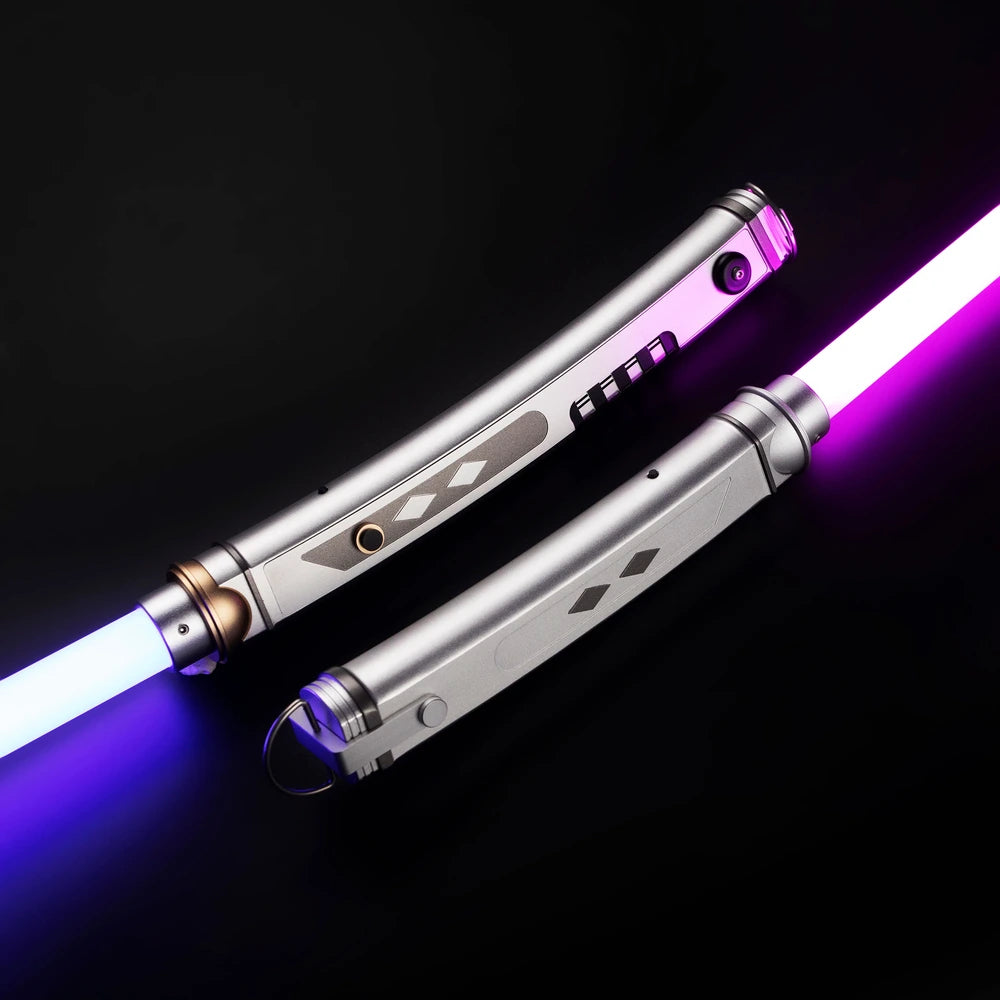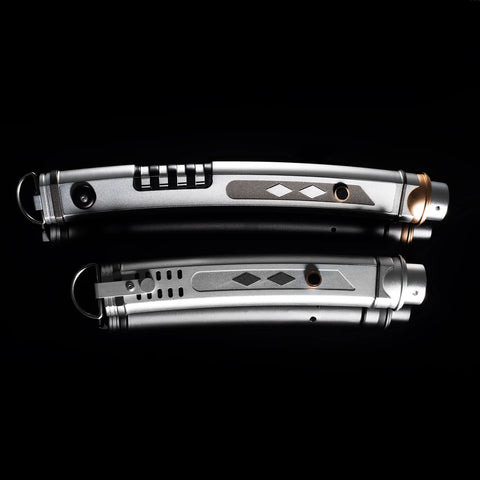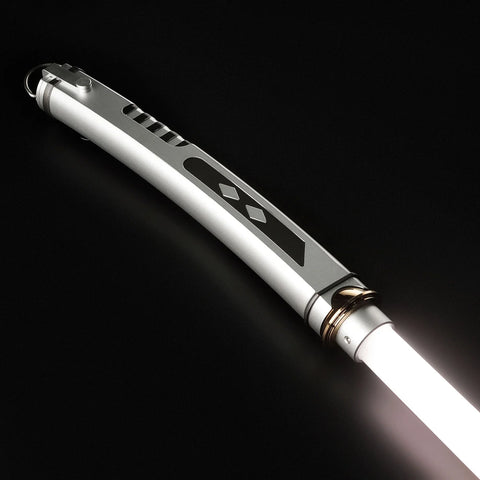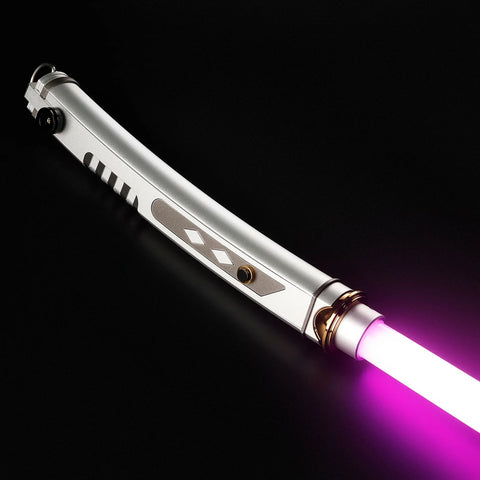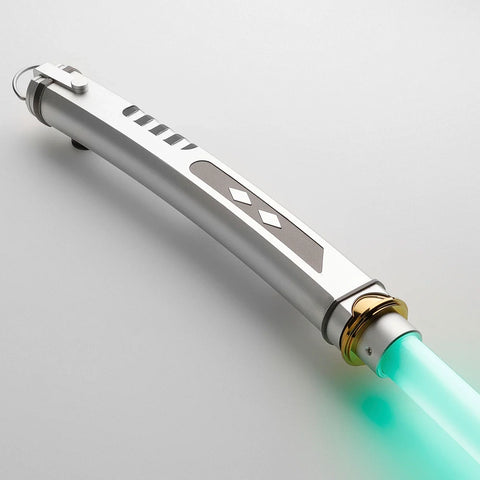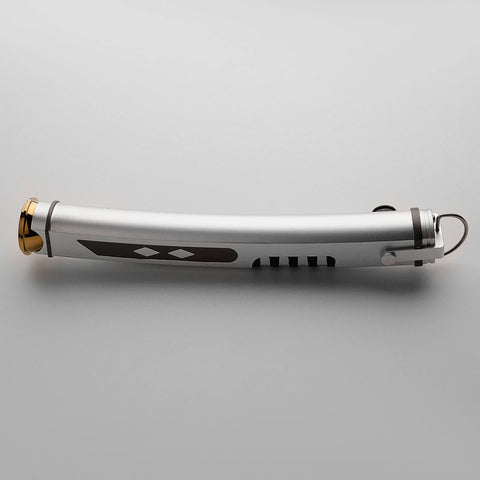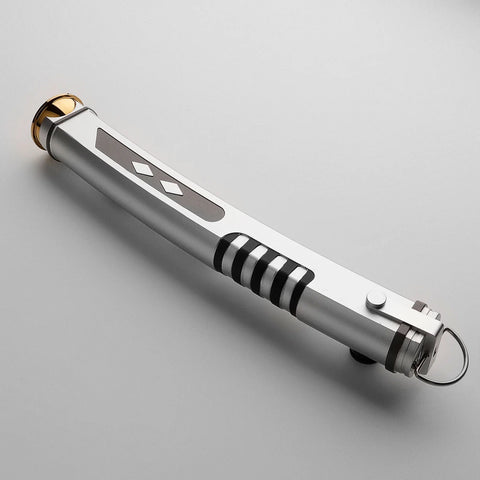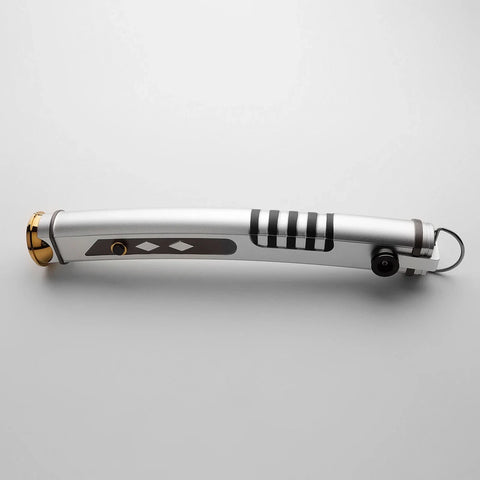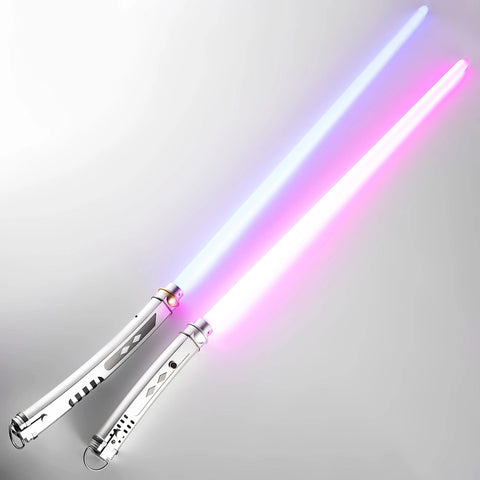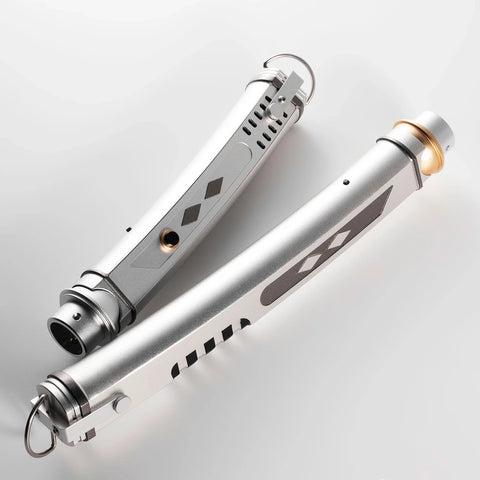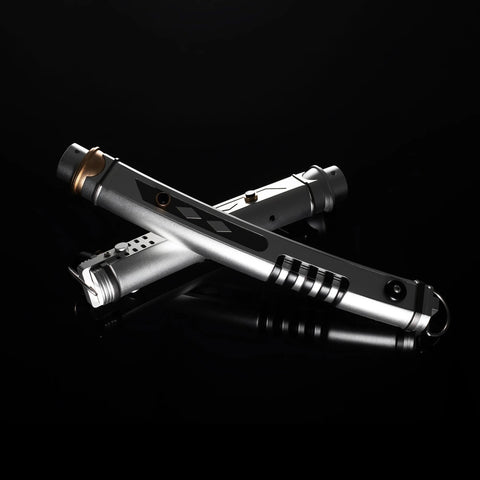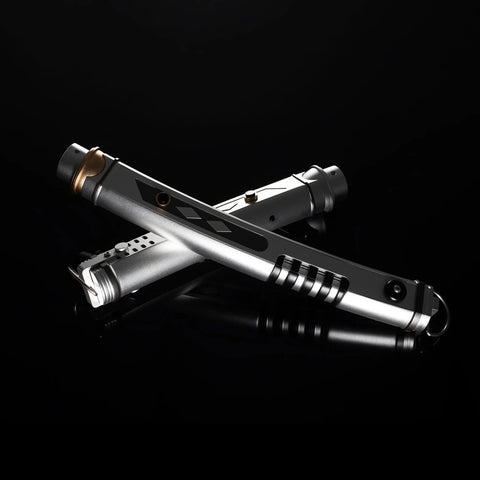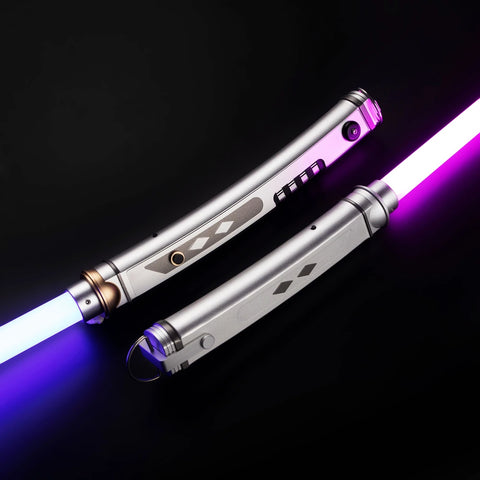 Ahsoka (Fulcrum) Curved Lightsaber Set
Free Shipping
Free standard shipping on orders over $99
Ashoka's Curved Lightsaber Set
The Ahsoka replica sabers present two curved curved hilts and with durable blades. The unique curved design makes the saber feel realistic and solid. Perfect for front or back grip the sabers will definitely add an exclusive touch to your collection. The highest quality T6 Aircraft Aluminum hilt and a polycarbonate blade create the ultimate combination providing durability and efficiency.

Ahsoka Tano's second pair of lightsabers were both curved-hilt lightsabers with a rectangular profile, although upon their initial construction, the hilts were much rougher due to having been assembled in a hurry in the middle of battle out of pieces of scrap metal. As with her first pair of lightsabers, they consisted of one regular saber and a shoto lightsaber. The blades were white, powered by two Kyber crystals that Tano had retrieved from the double-bladed lightsaber of the Imperial Inquisitor known as the Sixth Brother. She purified them of the dark side they had been imbued with before assembling her lightsabers, initially using various mechanical components she had picked up on her journeys and some specialized components she recovered from the Sixth Brother's lightsaber.
Specialized hilt design: This hilt utilizes a unique design that sets it apart from the rest of our collection, utilizing specialized parts and materials.

In honor of the Ahsoka series currently being released. All of our Ahsoka sabers are on SALE!
BASE LIT RGBX:


12w LED's in the hilt
Smooth Swing
All Blade Colors
Polycarbonate Blade
Removable Blade
8 Pre-downloaded sound fonts
Flash on Clash
Blade Lock-up
Aircraft Aluminum Hilt
2-3w (4-5 ohm) speakers
CE Certified
100% Great for Dueling
XENOPIXEL:


(Neopixel Blade) Neopixel 50w LEDs in the Blade, makes it look realistic with blade scrolling.
Premium Smooth Swing
Infinite Blade Colors
16 Pre-Installed Sound Fonts, with the ability to customize and change them with included SD card!
Flash on Clash (Multiple contact points)
Blaster effects (blaster specific fonts also)
Blade Lock-up
Musical Themes
Aircraft Aluminum Hilt
2-3w (4-5 ohm) speakers
CE Certified
Gesture Controls
PROFFIE NEOPIXEL:


(Neopixel Blade) Neopixel 50w LEDs in the Blade, makes it look realistic with blade scrolling.
Premium Smooth Swing
Infinite Blade Colors with the ability to install as many custom colors as you like.
A Crazy amount of Pre-Installed Sound Fonts, with the highest ability to customize and change them with included SD card!
Ability to Completely Customize Blade styles
Flash on Clash (Multiple Contact Points -Customizable)
Blaster effects (blaster specific fonts also)
Blade Lock-up
Musical Themes
Aircraft Aluminum Hilt
2-3w (4-5 ohm) speakers
CE certified
Tons of Gesture Controls
Higher Quality Sound Board
Technical Specifications:
Handle material: T6 Aircraft Aluminum
Handle length: 10.6" (27cm)                                                                                                Blade material: Polycarbonate (PC)
Blade length: 32.3" (82 cm)
Total length: 42.9" (109 cm)
Charging type: USB fast charging
Charging time: 2-4 hours                                                                                                      Light type: 12Watt -Baselit/50 Watt - Xenopixel/Neopixel Proffie
Battery type: Rechargeable (18650 5V, 1A Battery 3000mAH/3600mAh)
Coupler:
Not Compatible
What's In The Box:

2* Hilts
2* Blade
1* USB charging cord
1* Tool bags and Screws
1* Instruction manual